What you need to know about Jeddah
Map of Jeddah- Saudi Arabia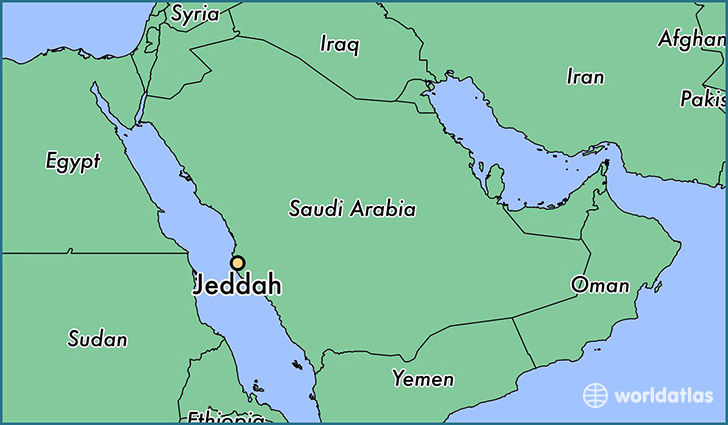 Jeddah  is a city in the Hijaz Tihamah region on the coast of the Red Sea and is the major urban center of western Saudi Arabia. It is the largest city in Makkah Province, the largest sea port on the Red Sea, and the second-largest city in Saudi Arabia after the capital city, Riyadh. With a population currently at 4.2 million people, Jeddah is an important commercial hub in Saudi Arabia.
Jeddah is the principal gateway to Mecca, Islam's holiest city, which able-bodied Muslims are required to visit at least once in their lifetime. It is also a gateway to Medina, the second holiest place in Islam.
Economically, Jeddah is focusing on further developing capital investment in scientific and engineering leadership within Saudi Arabia, and the Middle East. Jeddah was independently ranked fourth in the Africa – Mid-East region in terms of innovation in 2009 in the Innovation Cities Index.
Jeddah is one of Saudi Arabia's primary resort cities and was named a Gamma world city by the Globalization and World Cities Study Group and Network (GaWC). Given the city's close proximity to the Red Sea, fishing and seafood dominates the food culture unlike other parts of the country. The city has been labeled as "different" by the majority of Saudis in an effort to promote tourism in the city, that had been previously perceived as "most open" city in Saudi Arabia.
Historically, Jeddah has been well known for its legendary money changers. The largest of said money changers at the time (the late Sheikh Salem Bin Mahfouz) eventually founded Saudi Arabia's first bank, the National Commercial Bank (NCB).
Population: 4 441 859 (2017)
Language: Arabic
Currency
The currency in Saudi Arabia is the Saudi riyal (SAR). Money can be exchanged at Jeddah International Airport, while banks across the city also have exchange services.
Geography
Jeddah is located in Saudi Arabia's Red Sea coastal plain (called Tihamah). Jeddah lies in the Hijazi Tihama (Arabic: تهامة الحجاز) region which is in the lower Hijaz mountains. Historically, politically and culturally, Jeddah was a major city of Hejaz Vilayet, the Kingdom of Hejaz and other regional political entities according to Hijazi history books. It is the 100th largest city in the world by land area.
Climate
Jeddah features a tropical arid climate (BWh) under Koppen's climate classification. Unlike other Saudi Arabian cities, Jeddah retains its warm temperature in winter, which can range from 15 °C (59 °F) at dawn to 28 °C (82 °F) in the afternoon. Summer temperatures are extremely hot, often breaking the 43 °C (109 °F) mark in the afternoon and dropping to 30 °C (86 °F) in the evening. Furthermore, summers are also very humid and quite oppressive. Rainfall in Jeddah is generally sparse, and usually occurs in small amounts in November and December. Heavy thunderstorms are common in winter. The thunderstorm of December 2008 was the largest in recent memory, with rain reaching around 80 mm (3 in). The lowest temperature ever recorded in Jeddah was 9.8 °C (49.6 °F) in February 10, 1993.[22] The highest temperature ever recorded in Jeddah was 52.0 °C (125.6 °F) on June 22, 2010.
Dust storms happen in summer and sometimes in winter, coming from the Arabian Peninsula's deserts or from North Africa.
Economy
Jeddah has long been a port city. Even before being designated the port city for Mecca, Jeddah was a trading hub for the region. In the 19th century, goods such as mother-of-pearl, tortoise shells, frankincense, and spices were routinely exported from the city. Apart from this, many imports into the city were destined for further transit to the Suez, Africa, or Europe. Many goods passing through Jeddah could not even be found in the city or even in Arabia.
All of the capitals of the Middle East and North Africa are within two hours flying distance of Jeddah, making it the second commercial center of the Middle East after Dubai.
Also, Jeddah's industrial district is the fourth largest industrial city in Saudi Arabia after Riyadh, Jubail and Yanbu.
King Abdullah Street
King Abdullah Street is one of the most important streets in Jeddah and runs from King Fahd Road by the waterfront in the west of Jeddah to the eastern end of the city. It is famous for hosting numerous corporate offices and commercial developments.
Tahliyah Street
Tahaliyah Street is an important fashion and shopping street in central Jeddah. It contains many upscale department stores and boutiques. It has been renamed "Prince Mohammad bin Abdul Aziz Road" by the government, but this official name is not widely used.
Madina Road
Madina Road is one of the most important streets in Jeddah. It links the South districts with the North, and it contains most of the companies main offices and showrooms.
Culture
Religious significance
Most citizens are Sunni Muslims. The government, courts and civil and criminal laws enforce a moral code established by Shari'ah. A very small minority of Saudi citizens are Shia Muslims, and there is also a large foreign workforce that is forbidden to follow their non-Islamic religions even privately, but this is little enforced.
The city has over 1,300 mosques. The law does not allow other religions' buildings, books, icons and expressions of faith. However, private religious observance not involving Muslims nor offending public order and morality is sometimes tolerated.
Since the 7th century, Jeddah has hosted millions of Muslim pilgrims from all over the world on their way to Hajj. This merge with pilgrims has a major impact on the society, religion, and economy of Jeddah. It also brings an annual risk of illness, known by locals as the 'hajji disease', a general term for various viral maladies.
Cultural projects and foundations with a branch in Jeddah
Encyclopaedia of Makkah and Madinah
Saqifat al-Safa Trust
Cuisine
Jeddah's multi-ethnic citizenry has influenced Jeddah's traditional cuisine.
As in other Saudi cities, the Nejdi dish Kabsa is popular among the people of Jeddah, often made with chicken instead of lamb meat. The Yemeni dish Mandi is also popular as a lunch meal. Jeddah cuisine is popular as well and dishes like Mabshoor, Mitabbak, Foul, Areika, Hareisa, Kabab Meiroo, Shorabah Hareira (Hareira soup), Migalgal, Madhbi (chicken grilled on stone), Madfun (literally meaning "buried"), Magloobah, Kibdah, Manzalah (usually eaten at Eid ul-Fitr), Ma'asoob, Magliya (a local version of falafel), Saleeig (a local dish made of milk rice), hummus, Biryani, Ruz Kabli, Ruz Bukhari, and Saiyadyia can be acquired in many traditional restaurants around the city, such as Althamrat, Abo-Zaid, Al-Quarmooshi, Ayaz, and Hejaziyat.
The famous Yemen food Ma'soub, fahsa and egg beans are also popular in Jeddah.
Grilled meat dishes such as shawarma, kofta and kebab have a good market in Jeddah. During Ramadan, sambousak and ful are especially popular at the evening iftar meal. These dishes are found in Lebanese, Syrian, and Turkish restaurants.
The most popular local fast food chain, begun in 1974, is Al Baik, with branches in Jeddah and the neighbouring cities of Makkah, Madinah and Yanbu. Their main dish is broasted (broiled and roasted) chicken, commonly known by Jeddans as "Broast", and a variety of seafood. Other local fast food restaurants have sprung up, like Al Tazaj, which serves seasoned grilled chicken (called Farooj) and a side of Tahina with onion and spices. Foultameez serves Foul and Tameez as fast food; Kudu and Herfy serve Western fast food; Halawani serves local variants of Shawerma; and Shawermatak has pioneered drive-through sales of Shawerma. Another popular fast-food chain is Hot and Crispy, an Arabic franchise popular for their spiced curly fries.
Indian, Bangladeshi, Pakistani and other Asian foods are also popular. Italian, French and American restaurants are also to be found.
Transport
Airport
Jeddah is served by King Abdulaziz International Airport. The airport has four passenger terminals. One is the Hajj Terminal, a special outdoor terminal covered by large white tents, which was constructed to handle the more than two million pilgrims who pass through the airport during the Hajj season. The Southern Terminal is used for Saudia and Flynas (As of 15 April 2015, these are the only airlines based in Saudi Arabia) flights, while the Northern Terminal serves foreign airlines. A plan for the extension of the airport is being developed. The Royal Terminal is a special terminal reserved for VIPs, foreign kings and presidents, and the Saudi Royal Family. A portion of the airport, King Abdullah Air Base, was used by Coalition B-52 heavy bombers during Operation Desert Storm in 1991.
Seaport
The Jeddah Seaport is the 32nd busiest seaport in the world as of 2008. It handles the majority of Saudi Arabia's commercial movement.
Roads and rails
Highway 40, which begins in Jeddah, connects the city to Mecca, Riyadh and Dammam on the east coast. Jeddah does not have any rapid transit system, but a rail system connecting the city to Riyadh is now under construction. The Haramain High Speed Rail Project will provide a connection to Mecca and Medina. There is a contracted plan to build an extensive light metro system known as the Jeddah Metro, throughout the city by 2020. Jeddah's main highways run parallel to each other.